Volunteers Needed
Carnival Volunteers Needed- June 28 from 5:30-7:30
Our annual Carnival is just around the corner and we need your help! (June 28 from 5:30-7:30) This is a great opportunity for us to connect with our community and we'd love for you to invite your friends!
If you are able to help out,
please sign up by Clicking
HERE
and let us know how you would like to help this year! We appreciate your willingness to serve!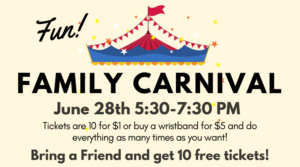 Youth Ministry Volunteers: Our youth ministry is heavily dependent upon volunteers who invest in the lives of our students: getting to know them, pray with them, take them out for coffee, talk about life, and help them reach spiritual maturity.

Youth ministry is a great opportunity to impact the next generation for Jesus! Let's get together, and if you have the desire, we can give you the tools…
For questions, contact Chad Gothmann at 509-953-5824 or cgothmann@gmail.com
Sunrise Coffee Stand: Our coffee ministry is fully run by volunteers and we would love your help! Do you like coffee? Do you like talking to people? Then you're perfect for the job! We are in need of enthusiastic people who want serve up coffee with a smile.

No experience needed! We will train you to do everything!
For questions, contact Lindsay Gothmann at 509-953-7740 or lindsay.gothmann@gmail.com
Children's Church Teachers: Each Sunday morning, Sunrise offers a "children's church" that runs at the same time as the adult service. We are in need of passionate, friendly teachers who can teach the children for 25-30 minutes.

Teachers will be asked to undergo a standard background check, and will be paired up with another adult for most services.
For questions, contact Dean Westerman at 509-487-2291.
Worship Ministry Sound Technicians: Do you love music? Our worship ministry team is in need of additional helpers to run the sound board and computer during Sunday morning services. No experience necessary, we will provide all the training you'll need!

Contact Chad Gothmann at 509-953-5824 or cgothmann@gmail.com.

Worship Ministry Musicians and Vocalists: If you can sing or play an instrument, and are interested in helping to lead our weekend gatherings in musical worship, we'd love to help you use that talent for God's glory!

Contact Chad Gothmann at 509-953-5824 or cgothmann@gmail.com.